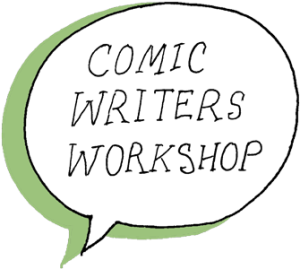 Our comic writers workshop is going strong!  We now meet bi-weekly at our studio in Gowanus, Brooklyn.  Do you live in Brooklyn?  Do you write or illustrate comics?  Do you want to write or illustrate comics?  Or do you just love comics and want to offer feedback to and engage with creators?  If any of these applies to you, then come on and join us!
 MORE INFO 💬

Emphasis of each session is on the rather elusive "writing stage" of comics, be it in script form, thumbnails, or any of the preproduction steps one might take before diving in and drawing.
We're looking to engage with like-minded creators by coming together to discus projects in development, ones you would like to develop, or would like to workshop in an effort to flesh out problems or brainstorm ideas.
It's open to anyone (at any level) who makes comics:  Writers, artists, writer/artists, published, unpublished, self-published, doesn't want to be published (that's crazy), anyone – – as long as the end result is sequential art storytelling.
If you would like to join us, all you have to do is RSVP by e-mailing us at sowhatpress@gmail.com.